How to launch a UK Dropshipping Business Offering Next-Day Delivery...
...Even If You Don't Know
Which Products

To Sell
Join The Dropship Unlocked Masterclass
Here's What You'll Learn:
How to set up your dropshipping business for success in the UK market.
Our step-by-step niche research strategy showing you which products to sell.
Which markets to avoid to save you time & money.
​ Where to find suppliers offering next-day delivery.
​ How to build long-term brand partnerships with suppliers.
​ Mastering pay-per-click ads so you can consistently generate profitable sales.
​Outsourcing: How to achieve complete freedom over your time by hiring & managing a team.
What is it?
The Dropship Unlocked Masterclass is a 6-week online coaching program featuring live Q&A calls with Lewis and our community of successful UK e-commerce entrepreneurs.
Who is it for?
If you're serious about launching a long-term, reputable e-commerce brand that gives you location and time freedom, as well as financial independence, then Dropship Unlocked was designed for you. If selling high-value products with next-day delivery to UK customers sounds like a business you'd be proud to own, this is for you.
How does it work?
Once enrolled, you'll be able to start immediately. Complete the action items in simple, easy to follow video modules and use our proven tools & templates to get your own store launched within six weeks. You'll then learn how to scale your business from zero to profitable with our ongoing support.
Where does it happen?
The Dropship Unlocked Masterclass is 100% online, so you can start from the moment you enrol. Simply complete the steps at your own pace and get lifetime access to all future updates, plus 12 months of access to bi-weekly Q&A calls with our dedicated support team to help with any questions you may have.
How long will it take me?
That depends on how quickly you take action. Many of our students begin making sales even before completing the program. Others prefer to take their time. The best part is, you get to choose. Building a long-term e-commerce brand is a marathon, not a sprint – so take it at your own pace.
Dropship Unlocked Masterclass Content
When you join Dropship Unlocked, we'll help you launch your business within 6-weeks. Here's how we do it:
Week One - Planting The Seed
Week Two - Product & Niche Selection
Week Three - Building your MVS
Week Four - Signing Your First Suppliers
Week Six - Unlock Your Freedom
Dropship Unlocked Masterclass
(Lifetime Access)
Watch the training modules in 1080p HD quality anytime you like, from any device and from anywhere in the world.
Supplier Contact Scripts
Once we've shown you how to find high-quality reputable suppliers, you'll then need to know how to sign them to work with you. Our proven supplier contact scripts for both phone & email show you how...
The Vault (Our Private Community)
Running an online business can be lonely if you do it alone. That's why, when you join us you'll be invited into our private members' only community where you'll get to network and be inspired by other successful entrepreneurs, running their own UK dropshipping businesses.
Tools & Resources
Along with the knowledge, you're going to need some tools. Fortunately, we include all of these for you. From our UK Profit Calculator to our Bookkeeping Tracker, you'll get access to everything you need and detailed guidance on exactly how to use it to scale your own business.
Store Launch Checklist
Before launching your store, there are some important things that can make or break your business. Instead of wasting your money and time figuring these out through trial and error, you can now avoid the guess work. Our Store Launch Checklist shows you exactly what to do before you "go live".
Ad Accelerator Package
Once we've shown you how to build your dropshipping store and sign suppliers, the fastest way to scale up your business will be to send targeted traffic to your store. The most scalable and consistent way to do this is through pay-per-click advertising. Our Ad Accelerator Package takes you through exactly how to do this from start to finish.
Unlimited UK Expert Mentorship
Join our 2 x weekly coaching calls to get personalised expert support and guidance on building your business. When you enrol, you'll get 12 months of access to attend our live Q&A calls as well as access to past call recordings.
Nothing Speaks Louder Than Results...
Here's what other Dropship Unlocked members are saying about us.
Watch These Two Interviews With Dropship Unlocked Members (Jarred & James)
Here's what others have to say about Dropship Unlocked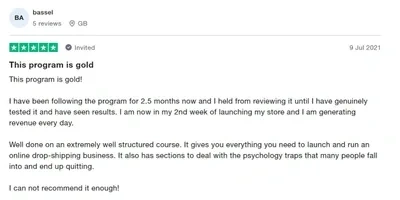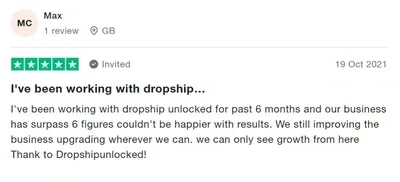 Disclaimer: This Training is Not for Everyone...
Please don't interpret this training as any type of promise or implication as to your future earnings. To build a successful e-commerce business it takes hard work, dedication and risk. If you are looking for a "shortcut" then please look elsewhere. This training is for those who understand that success does not come easy, but takes a strong work-ethic and commitment. This training will however, give you insight into what it takes to build a successful dropshipping business in the UK.
Frequently Asked Questions
What do you get with the Dropship Unlocked Masterclass?
What are the payment methods?
What is the price of Dropship Unlocked?